Their goal is to revitalize the region by combining space and sports.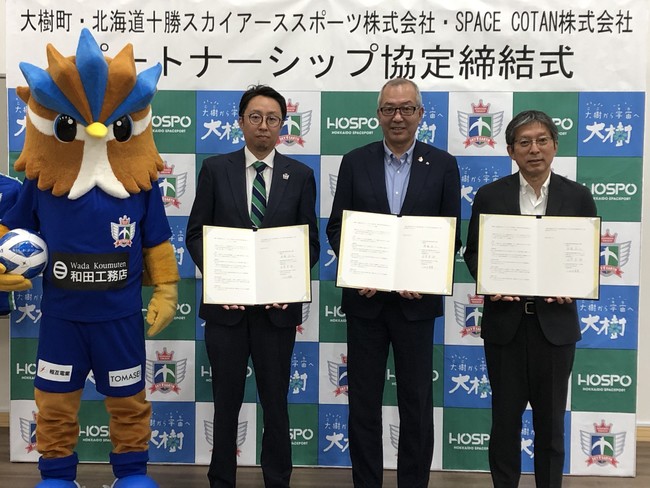 Asia's first commercial public spaceport, "Hokkaido Spaceport," is being promoted by Taiki Town in Hokkaido (Head office: Hiroo-gun, Taiki Town, Hokkaido, Mayor: Masato Sakamori) and SPACE COTAN Co., Ltd. (Head office: Hiroo-gun, Taiki Town, Hokkaido, CEO: Yoshinori Odagiri). The two have announced that they signed a Sports x Space Town Development Partnership Agreement (hereinafter, "this Agreement") with Hokkaido Tokachi Sky Earth Sports Co., Ltd. (Head office: Kato-gun, Otofuke Town, Hokkaido, CEO: Soichiro Kanazawa) on August 23rd.
With the signing of this Agreement, Taiki Town in Hokkaido, Hokkaido Tokachi Sky Earth Sports Co., Ltd., and SPACE COTAN Co., Ltd. will collaborate and work together on sports promotion and space town development to further revitalize the region. Taiki Town and SPACE COTAN will collaborate with various sports-related organizations.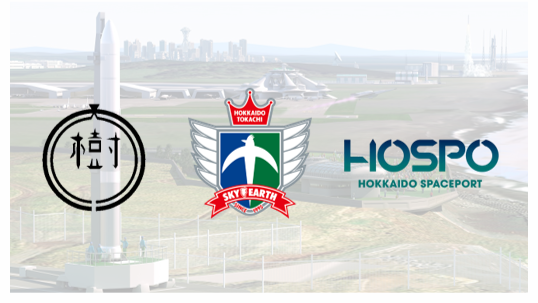 Although the fields of space and soccer are completely different, the three parties working in the same "Tokachi" field share a common desire to promote their local area, "Tokachi," and empathize with each other's visions and activities to aim for the nation, the world, and space from "Tokachi." This led to the signing of this Agreement. This is the fourth time that Taiki Town in Hokkaido and SPACE COTAN have entered into a partnership agreement with a sports organization.
Comments at the press conference:
■ Mayor of Taiki Town, Masato Sakamori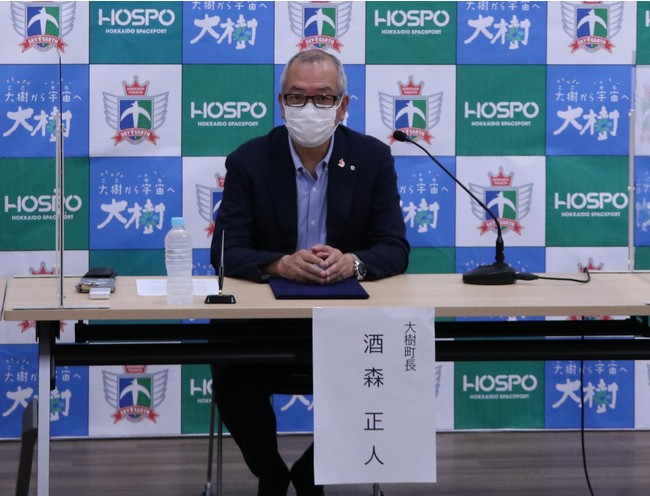 As we are both in Tokachi, I believe we can collaborate on various initiatives. Through a wide range of efforts related to sports and space, I hope that we can work together to promote "Tokachi" to the "nation" and then to the "world." With "Tokachi" as our field, Sky Earth aims for the J-League, while we, Taiki Town and SPACE COTAN, aim for space. Although our fields are entirely different, I think we have something in common in terms of never giving up on our dreams and continuing to challenge without fearing failure. I expect the three parties to develop and grow by learning from each other in a positive way. Also, I think we should work together to convey the importance of "never giving up on dreams" and "continuing to challenge" to the children who will be responsible for the next generation. I am sincerely looking forward to various initiatives in the future. Thank you very much for today.
■ Soichiro Kanazawa, President and CEO of Hokkaido Tokachi Sky Earth Sports Inc.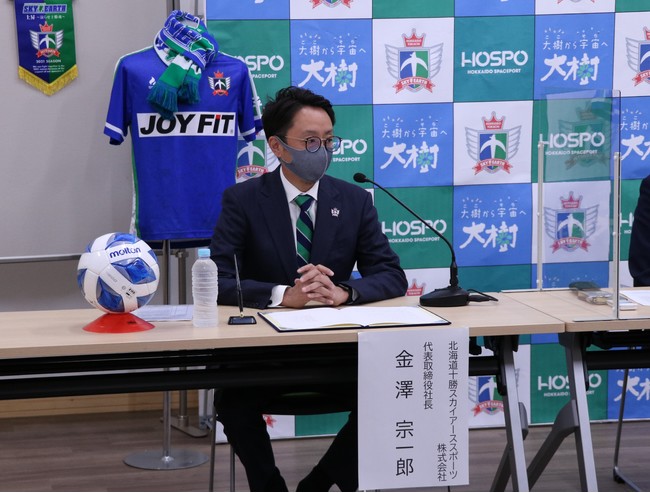 As a resident of Tokachi, I am truly delighted and grateful that the three parties were able to conclude a partnership agreement today. When considering the overall situation of regions in Japan, changes in social structure due to government-led regional development, stagnation of local economies including aging population and declining birthrates, it is crucial for local communities to take the lead in driving their own development by involving various stakeholders and organizations from the public, private, academic, financial, and labor sectors. In that sense, I believe that today's agreement holds great significance.
Regarding the common theme of sports and space, as the mayor mentioned, I recognize that this is the dream and aspiration of the children who will carry the next generation of Tokachi. Therefore, I believe that if we can collaborate in the future to provide dreams and hopes to the children, this agreement will be a wonderful one.
From Taiki Town to Tokachi, Hokkaido, Japan, the world, and finally to space, we will do our best to make sure that our dreams and hopes reach everyone. Thank you for your cooperation. Thank you very much for today.
■ Yoshinori Odagiri, President and CEO of SPACE COTAN Co., Ltd.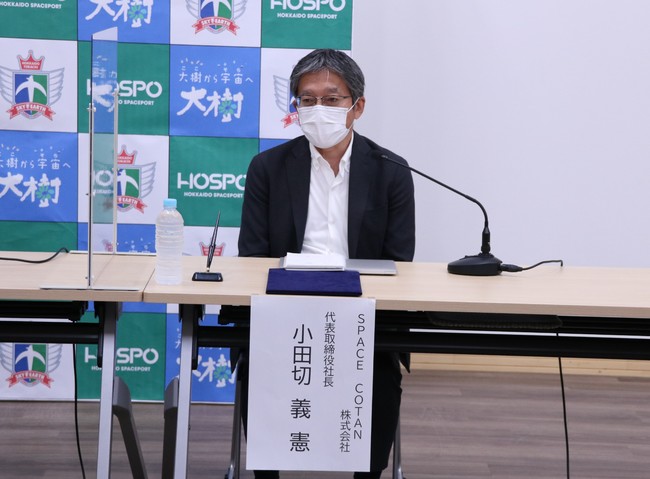 Looking at the panel behind us, I see that the team color of Sky Earth and our corporate color are strikingly similar. This is because our theme is "Earth and Sky," and our goal is to reach from the ground to space, from the green of the earth to the deep color of the sky. I am deeply moved by the fact that Sky Earth has the same theme and color.
This past month, the Olympics were held, and the Paralympics will start tomorrow. Turning dreams into reality, witnessing dreams become reality – I believe that the youth of today are expected to make their dreams come true. Turning dreams into reality is not easy, and there will be challenges, failures, and setbacks along the way, but I think it's better for young people to experience setbacks early on. I hope that they will not be discouraged by failure, but rather use it as fuel to keep moving forward.
I feel that there is great significance in local companies collaborating to create something new through this agreement. First and foremost, we want to revitalize Tokachi, then Hokkaido, and finally Japan, with a big dream in mind. I would like to ask for your continued support in the future. Thank you very much for today.
What is the Hokkaido Spaceport?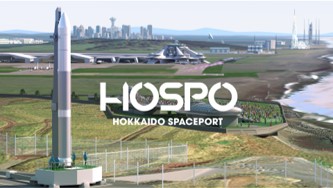 HOSPO, the Hokkaido Spaceport, began full-scale operations in April 2021 as Asia's first commercial public spaceport in Taiki Town, Hokkaido. Aiming to realize the vision of creating a "Silicon Valley of the Space Industry" in Hokkaido, HOSPO has developed launch and testing facilities for rockets and spacecraft (spaceplanes) intended for space travel and provides launch support services. As an infrastructure supporting the global space business, HOSPO offers business opportunities including research and development in aerospace, business support, and regional revitalization. By 2025, they plan to raise funds for the development of two launch sites for artificial satellite rockets, utilizing the "Furusato" tax payment system (for both corporations and individuals) and donations. *1
Hokkaido Spaceport Website: https://hokkaidospaceport.com/en
*1: In Taiki Town, the facility development for the spaceport is included in the "Taiki Town Initiative! Regional Revitalization Promotion Plan through Aerospace Industry Agglomeration" regional regeneration plan as a purpose for corporate "Furusato" tax payment, and has been certified by the Cabinet Office in March 2020.