Aiming for regional revitalization through the combination of space and sports
Taiki Town in Hokkaido (Mayor: Masato Sakamori) and SPACE COTAN Co., Ltd. (Headquarters: Taiki Town, Hiroo District, Hokkaido, CEO: Yoshinori Odagiri), which promote Asia's first commercial public spaceport "Hokkaido Spaceport", have announced the conclusion of a Sports × Space Town Development Partnership Agreement (hereinafter referred to as "this agreement") with Consadole Co., Ltd. (Sapporo City, Hokkaido, CEO: Yoshikazu Nonomura) on August 13th among the three parties.
Through this agreement, Taiki Town, Consadole Co., Ltd., and SPACE COTAN Co., Ltd. will collaborate and cooperate to promote sports and space town development, aiming for further regional revitalization. In addition, Taiki Town and SPACE COTAN plan to collaborate with various sports-related organizations in the future.
Background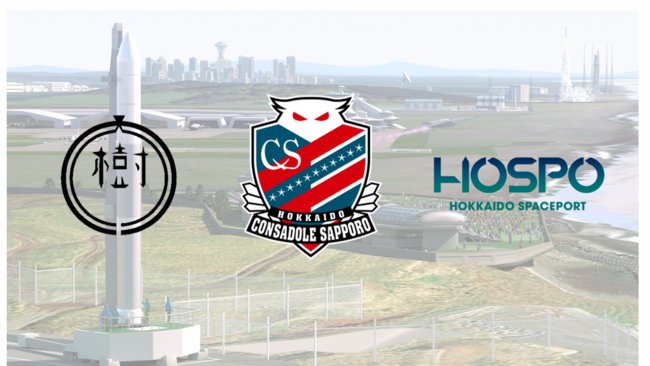 There are commonalities between the parties, and they have empathized with each other's vision and activities, leading to the conclusion of this agreement. This is the first time that Taiki Town and SPACE COTAN have entered into a partnership agreement with a sports organization.
Comments at the press conference
■ Taiki Town Mayor, Masato Sakamori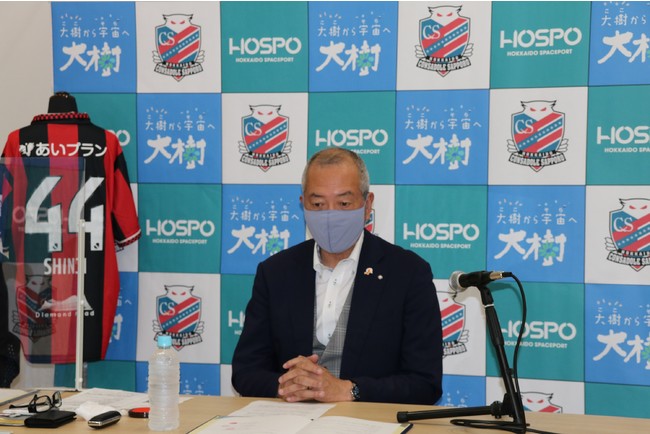 I am very happy that we have signed a partnership agreement with Consadole Sapporo, which has its hometown here in Hokkaido. Like Consadole Sapporo's team slogan "Together with Hokkaido, to the world," we in Taiki Town also aim "Together with Hokkaido, to space" and look forward to working together to help each other grow and develop, moving forward with initiatives that will enable us to spread our wings to the "world" and "space."
Consadole Sapporo is celebrating its 25th anniversary this year, and I believe it started from scratch. Our space initiatives in Taiki Town have also been a start from scratch for over 30 years. I think we still need to continue challenging ourselves. Soccer and space have different fields of activity, but I believe we have gained an attractive and powerful partner who shares the same philosophy and passion for realizing dreams. I am truly looking forward to our mutual progress. Thank you very much for signing the agreement today.
■ Consadole Relations Team Captain, Ryuji Kawai, Consadole Co., Ltd.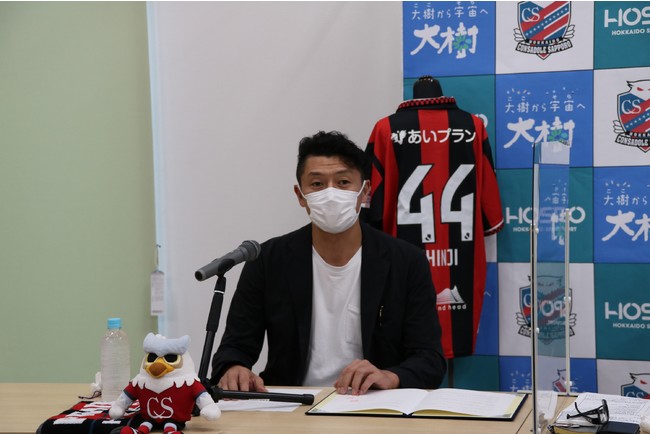 I believe that there are several commonalities between Taiki Town, SPACE COTAN, Hokkaido Spaceport, and us at Consadole.
The first is the attitude of involving many people to revitalize the community, and the second is that all the organizations involved in this agreement are based in Hokkaido and are aiming to spread their wings.
Taiki Town and SPACE COTAN are embracing great hopes from Hokkaido and have started their approach to space. We, Consadole, are also based in Hokkaido and aim to demonstrate our presence in Asia and the world, and to have more people enjoy soccer. There are numerous beautiful and wonderful attractions in Hokkaido, space, and soccer. I believe that by cooperating and stimulating each other, we can create results that are more than just simple addition. I am truly looking forward to various initiatives with Taiki Town and SPACE COTAN in the future. Thank you very much for today.
■ Yoshinori Otagiri, President and CEO, SPACE COTAN Co,. Ltd.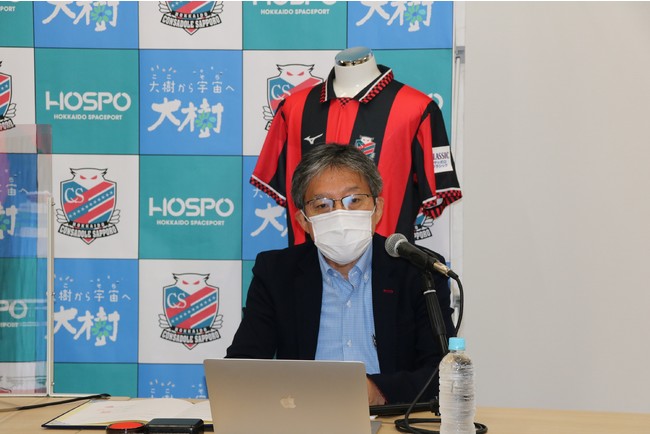 Space has long been considered a world of dreams and aspirations, but it is no longer just a dream, but a reality within our grasp, and I believe it will continue to advance. On the other hand, I want young people to challenge various things, and I think it's extremely important for them to have dreams in the process. I hope to build a strong relationship with Consadole in terms of this dream, connecting space and sports. The words "sports" and "space" are similar, and when looking into their origins, sports originally meant "to move, to transfer, to carry." In that sense, carrying objects far away is also our job in space, and I believe that through this agreement, we can create a more concrete relationship between space and sports. I look forward to working with Consadole and Taiki Town from various perspectives in the future. Thank you very much for today.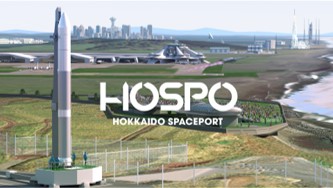 HOSPO began full-scale operations in April 2021 in Taiki Town, Hokkaido, as Asia's first commercial public spaceport. Aiming to realize the vision of "creating a Silicon Valley of the Space Industry in Hokkaido," HOSPO is developing launch and test facilities for rockets and spacecraft (spaceplanes) intended for space travel, and providing launch support services. As an infrastructure supporting the global space business, HOSPO offers business opportunities, including aerospace research and development support, as well as regional revitalization initiatives. By 2025, funds for the development of two satellite launch facilities will be collected, utilizing the "Furusato" tax payment system (both corporate and individual) and donation mechanisms. *1
Hokkaido spaceport Website:https://hokkaidospaceport.com/en
*1: In Taiki Town, the facility development of the spaceport is included as a purpose for corporate "Furusato" tax payments within the regional revitalization plan "Taiki Town Launch! Regional Revitalization Promotion Plan through Aerospace Industry Agglomeration." The plan received certification from the Cabinet Office in March 2020.