Aiming for regional revitalization through the combination of space and sports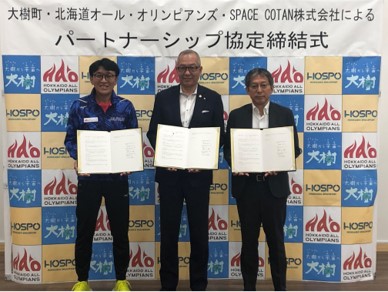 Taiki Town, Hokkaido (Headquarters: Taiki Town, Hiroo District, Hokkaido, Mayor: Masato Sakamori) and SPACE COTAN Co., Ltd. (Headquarters: Taiki Town, Hiroo District, Hokkaido, Representative Director and President: Yoshinori Owagiri), which is promoting Asia's first commercial public spaceport "Hokkaido Spaceport," have announced the signing of a Sports × Space Town Development Partnership Agreement (hereinafter referred to as "the Agreement") on August 11th with Hokkaido All Olympians (Sapporo City, Hokkaido, General Manager: Yasushi Suzuki) as a three-party collaboration.
Through this Agreement, Taiki Town, Hokkaido All Olympians, and SPACE COTAN Co., Ltd. will collaborate and work on sports promotion and space town development to further revitalize the region. Additionally, Taiki Town and SPACE COTAN plan to cooperate with various sports-related organizations in the future. As one of the specific initiatives, they will collaborate on efforts towards the bid for the 2030 Winter Olympic and Paralympic Games. They will promote the space business as a new industry and attraction for Hokkaido.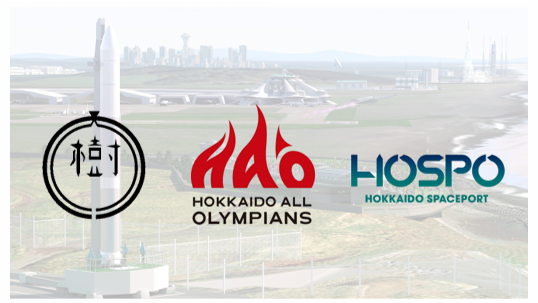 While this Agreement is a unique collaboration between space and sports, there are several common points, such as the importance of having dreams and not giving up on them, the perspective of education for children, and revitalizing Hokkaido and the region through activities. Both parties empathized with each other's vision and activities, leading to the signing of this Agreement. This marks the first time Taiki Town, Hokkaido, and SPACE COTAN have entered into a partnership agreement with a sports organization.
Comments at the press conference:
■Mr. Masato Sakamori, Mayor of Taiki Town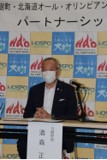 At the Tokyo 2020 Olympics, we received a lot of inspiration, and I felt the power of sports is immense. This agreement aims to revitalize the region through both the promotion of sports and the development of a space town. Sports possess a great power, and space holds infinite possibilities. By combining these two elements, I believe various possibilities will expand.
I felt that the daily training, mutual encouragement, and challenging attitudes of athletes have something in common with aerospace development. In the future, I hope that athletes will give lectures, particularly showing the children of Taiki Town their real selves. Thank you for signing the agreement.

■Mr. Yasushi Suzuki, General Manager of Hokkaido All Olympians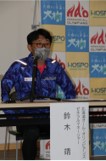 In the comment, it was mentioned that sports bring a lot of inspiration, but I was recently moved by a rocket launch from the Hokkaido Spaceport. Both space and sports have the commonality of pursuing the same goals and dreams. In sports, there are many setbacks when aiming for the dream stage of the Olympics. However, I don't think setbacks equal failure; instead, I believe setbacks are steps towards success. With this agreement, I hope we can create a project that combines space and sports to convey dreams and hopes to children all over Japan. I have visited various facilities in Taiki Town so far, and each of them is a wonderful facility with amazing nature. I want to invite many children here. Hokkaido's Taiki Town is the only place where space and sports can be learned together.
Hokkaido All Olympians has 450 members, and 15 more members joined after the recent Olympics. We would like to gather this power and work together to promote Taiki Town.

■Mr. Yoshinori Odagiri, President and CEO of SPACE COTAN Co., Ltd.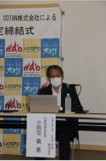 Space, once a subject of dreams and admiration, has now become a technology that is closely related to people's lives. From now on, we will be entering an era where we will use space. We will seek better lives and lifestyles using artificial satellites.
When we talk about the vision of the Hokkaido Spaceport, which is to "create a Silicon Valley of the Space Industry in Hokkaido," people often misunderstand that only aerospace engineering experts can be involved. However, the possibilities of the space business will expand, and opportunities in the space business will emerge for people in all industries. For example, the long potatoes from the Kawani Agricultural Cooperative in Tokachi, Hokkaido, are now being sent to space as space food. Various jobs related to space will be created. I hope that many people, especially young people, will continue to challenge themselves with dreams and aspirations for "space," which is no longer just a subject of dreams and admiration. The persistence in challenging is something that is common to both space and sports.
While finding common ground with Hokkaido All Olympians, we would like to embark on new initiatives.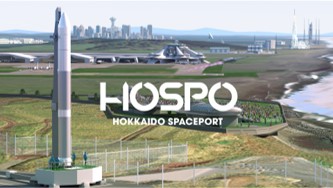 HOSPO began full-scale operations in April 2021 in Taiki Town, Hokkaido, as Asia's first commercial public spaceport. Aiming to realize the vision of "creating a Silicon Valley of the Space Industry in Hokkaido," HOSPO is developing launch and test facilities for rockets and spacecraft (spaceplanes) intended for space travel, and providing launch support services. As an infrastructure supporting the global space business, HOSPO offers business opportunities, including aerospace research and development support, as well as regional revitalization initiatives. By 2025, funds for the development of two satellite launch facilities will be collected, utilizing the "Furusato" tax payment system (both corporate and individual) and donation mechanisms. *1
Hokkaido spaceport Website:https://hokkaidospaceport.com/en
*1: In Taiki Town, the facility development of the spaceport is included as a purpose for corporate "Furusato" tax payments within the regional revitalization plan "Taiki Town Launch! Regional Revitalization Promotion Plan through Aerospace Industry Agglomeration." The plan received certification from the Cabinet Office in March 2020.